Steve and Jalisca Solier have taken the lead in the first competition which counts for the Rolex Rankings. He won more than one second over Pius Schwizer who was riding Verdi III.
In the 140 cm competition Steve came 12th riding "Nino des Buissonnets".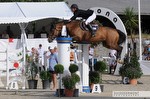 On Saturday, Steve came third the the Swiss Top-10 riding « Come on Girl ».
He was also the second riding "Sidney VIII" in the 150 cm competition that counts for the Rolex Rankings.
In the Youngster tour final Steve came 7th on Baloussini.
Photo: Guido Dermond