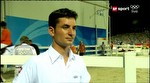 The Swiss team of Steve Guerdat, Christina Liebherr, Niklaus Schurtenberger and Pius Schwizer has definitely acquired the bronze medal in team horse jumping of Pekin Olympics. After the confirmation of court of arbitration for sport in 2009, the Federal Supreme Court confirmed the disqualification of Tony Andre Hansen and the Norway team.
Hansen's horse, Camiro, was positively tested for capsaicin. Hansen was temporarily suspended during the Olympics and disqualified by FEI on December 22, 2008. He made the first appeal to CAS in January 2009 and then proceeded to the Supreme Court.
"Our riders deserved the medal and it is a pity that the medals are assigned years after the competition and legal actions when the situation is clear for a long time", said Gian Gilli, Swiss Olympic coach.
The quest for the bronze medal yields 7 medals obtained by Swiss in 2008 Olympics. Fabian Cancellara obtained two medals (one due to Davide Rebellin's disqualification), other were won by tennis players Roger Federer/Stanislas Wawrinka (gold), Nino Schurter (bronze), bicycle racer Karin Thürig (bronze) and Sergei Aschwanden (bronze).
(si)