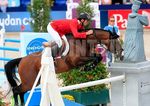 Hickstead CSIO***** takes place from July 28 to 31 2010.
Hickstead, England, hosts the seventh leg of FEI Meydan Nations Cup.
This is the crucial leg for the Swiss team that is on the 8/10 place in the general provisioning ranking. It is so because this year the four last teams shall be moved to Promotional League.