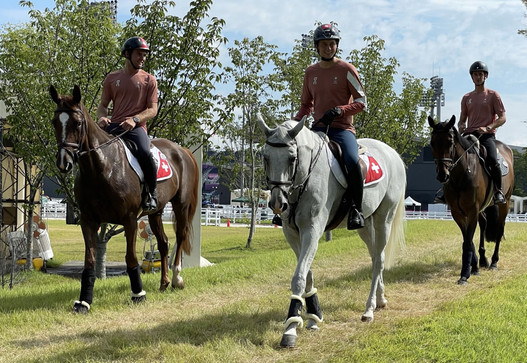 Bryan Balsiger avec Twentytwo des Biches, Martin Fuchs avec Clooney et Steve Guerdat avec Venard de Cerisy (Photo : Michel Sorg)
HORAIRES TV & LIVESTREAMS
RTS
RTS  - Le programme des retransmissions équestres n'est pas encore définitif et il dépendra aussi des performances des Suisses engagés. Infos régulières sur www.rts.ch/sport/jo/tokyo-2020 et sur l'application de la RTS. 
La RTS prévoit de diffuser en direct et en intégralité toutes les épreuves de saut ainsi que le cross et l'épreuve finale de saut du concours complet. Pour le dressage, RTS proposera des reflets du ou des passages d'Estelle Wettstein.
Commentaires: Pierre Poullier (journaliste) et Alban Poudret (consultant) 
SRF
SRF - Les concours de saut d'obstacles seront diffusés dans leur intégralité, pour le concours complet, le cross ainsi que le saut d'obstacles sont programmés, en dressage la finale de la Kür (sous réserve de modifications).
Tous les jours, de 02h00 à 16h00, SRF zwei diffusera en direct de Tokyo.
Entre 16h00 et 20h00 - également sur SRF zwei - les moments forts de la journée seront diffusés.
Tous les jours à 20h05, SRF résumera les événements de la journée olympique dans l'émission de 45 minutes "Tokyo konpakuto" sur SRF zwei.
Dans le "Olympia Player" de l'application SRF Sport, vous dirigez vous-même le programme : vous pouvez choisir entre 9 chaînes et composer votre programme olympique personnel.Commentaire TV (concours complet et saut d'obstacles) : Michèle Schönbächler (SRF) et Daniel Etter (co-commentateur).
Michel Sorg | 29 juillet 2021
Now the time has come: after many months of waiting, doubts and open questions, the Olympic Games are taking place in Tokyo. The Olympic Games as we know them may be different than usual due to the current situation, but the Olympic Games are still a lifelong dream for every athlete, and participation a unique, huge opportunity!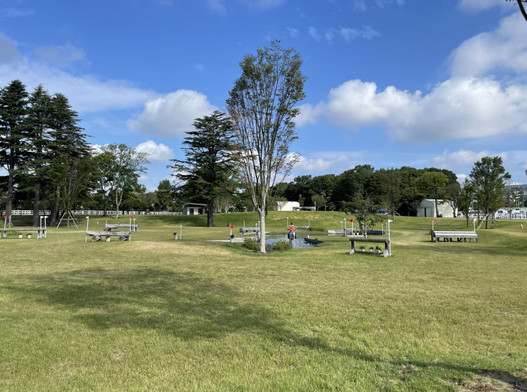 Martin Fuchs avec Clooney (Photo : Michel Sorg)
Le manège de dressage est toujours debout, mais les compétitions de saut d'obstacles se dérouleront ici à partir du 3 août (Photo : Michel Sorg)
Leider können Sie nicht hier sein und Ihr Team vor Ort unterstützen. Aber auch wenn wir Ihre Anfeuerungsrufe im Stadion nicht hören können, hoffen wir, dass wir auf Ihre Unterstützung hinter Ihren Bildschirmen und in den sozialen Netzwerken zählen können.
Steve, Martin, Beat, Bryan, zusammen mit ihren Pferden Venard, Clooney, Dsarie und Twentytwo sind bereit. Wir können es kaum erwarten, dass unsere Wettkämpfe beginnen und wir die Schweizer Flagge mit Stolz vertreten können.
Herzliche Grüsse aus Tokio!
Michel Sorg
Chef d'équipe Saut Elite