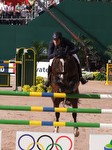 An excellent weekend for Steve Guerdat in South America. He has taken the "Embratel Masters" Grand Prix of Rio de Janeiro CSI5* organizers. This is considered to be more difficult than the Grand Prix of Global Champions Tour, only four riders have finished the first class without faults. Only 6 riders that received 4 penalty points could proceed to the second tour. There Eric Lamaze and Edwina Alexander have taken 4th and 3rd places by performing fast and fault-free. It was previewed that Prince Abdullah Al Saud could easily win by making a fault-free class but Steve Guerdat who was starting last in fact has done the same but was one second faster which lead to his victory.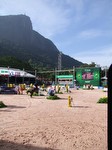 Despite the hard start when all classes were cancelled on Thursday and Friday because of the weather conditions, the Rio de Janeiro phase of Global Champions Tour 2009 organized by Athina Onassis has once again shown the power of Trésor when ridden by Steve Guerdat, a very good sign just 3 weeks before the European Championship.
As well as was the Steve Guerdat/Ferrari 8th place of one 1.45m class this Sunday.
Copyright pictures : Lulu Kyriacou