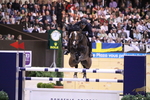 Trophies and misfortunes

Steve Guerdat proved what he is capable of on Friday in Geneva where the second leg of the World Cup took place. Showing a good performance on the back of «Tresor» he got up to the 10th place of the general rankings.
The rider won the Grand Prix on Sunday riding «Jalisca Solier» which did not count for the general rankings of the World Cup Final but despite that Steve and Trésor amused the cheering crowd of about 10000 spectators the day after.
However after numerous classes the final is not satisfactory - Steve Guerdat is 14th in his favorite track.
Text: RK