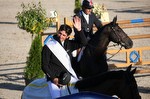 This weekend Uster has hosted the Grand Prix, the major event of this weekend that counts for the elite Switzerland championship.
Steve Guerdat won the GP by a double clear on « Come on Girl » and a promising 4th place on Sidney VIII.
The good performance of these horses secures the rest of the outdoor season.