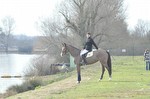 Steve Guerdat came 12th
riding "Jalisca Solier", with two faults on barrage. He could have been 7th if he committed just one.

Steve won the Saturday's afternoon 150 cm competition counting for Rolex Rankings riding "Urgent" and won 3 seconds over other riders.

On Sunday Steve Guerdat came 10th by making a clear round on Nino des Buissonnets.
Photo: Nolwenn Lemée