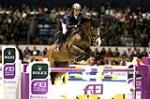 Steve Guerdat won the World Cup pre-qualifier in Verone riding "
Ferrari
". 12th
in the October's Rolex Rankings and most likely 12th
in the November's, he received the valuable points in front of the Top-10 finals in Geneva (December 10) by winning the pre-qualifier GP on Friday on "Ferrari" with a double clear. The rider has captured the advantage of a half a second against the two olympic ex-champions: Jeroen Dubbeldam who came second on "BMC van Grunsven Simon" and Rodrigo Pessoa, 3rd on "Champ".
Steve Guerdat came 10th in the Rolex FEI World Cup GP with 7 points riding Jalisca Solier.