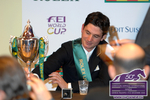 Steve Guerdat won the 10th final of Top 10 Rolex IJRC.
Steve Guerdat has already won numerous competitions in Palexpo since 2006. Steve and his magnificent Jalisca have touched the spectators' hearts when they won the World Cup GP. Among the victories there also are Credit Suisse Grand Prix and 2008's Défi des Champions victories.
This time Steve has pleased the crowd by winning the second (and the first Geneva) Top 10 final. «This success is a teamwork of my family, my fiends, my trainer Thomas Fuchs and you!» said the rider.
The only one to perform a clear round and the last but one to start he balanced the speed and carefulness. Marcus Ehning came fourth with a single fault and Ireland's Denys Lynch took the second place.