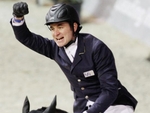 Steve Guerdat could say that he is in his home ground in Geneva, where he achieved that much of success. However since yesterday Zurich could be also considered the one, also because he is residing in Herrliberg since the Spring 2007.
The rider was cheered by11320 visitors, impressed by his style and emotions. Christiane, the mother, was the first to express them and was very excited. The rider was the third Swiss to win after Willi Melliger on «Calvaro V» in 1999 and Markus Fuchs on «Nirmette» in 2007 and the first in the World Cup scope.
This is the third World Cup success of the 27-year old rider after the 2006 Geneva and 2007 Vigo competitions. "I was lucky to start the last, I knew what I had to do, and that was the biggest success since a couple of months.", he said. "Successes and defeats are essential for beauty of the sport."
The next competition shall take place in Geneva: "This is my ultimate goal and I will make it even better to improve my results, my three horses are again all well».
Having the superb «Trésor», «Jalisca Solier» (operated after Windsor) and «Ferrari» that recently gained the third place in Basel GP, Steve Guerdat's results are secured. "I am taking all the three to Bordeaux and Vigo to use them periodically". Passionate in horses and his care of them brings the remarkable results.
source: Le Matin, texte: Alban Poudret, photo: Keystone