The Swiss team did not let down its supporters by sharing the second Nations Cup place with Great Britain after the Netherlands.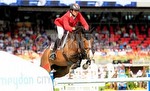 Steve Guerdat has performed two clear rounds on Jalisca Solier. Werner Muff (Kiamon) and Pius Schwizer (Carlina) have both committed a single fault. Janika Sprunger (Uptown Boy) finished with 5 and 8 points respectively.
This is the second victory in a row for the Netherlands after Rome. They have finished with 5 points, 3 points less than Switzerland and Great Britain. The Netherlands are also leading the general standings, having 5.5 points over Ireland and 6.5 over Belgium.
Source: ATS