The Swiss expect good performance in the Nations Cup having one victory and five participants in the top 8 of the past competition.
The Nations Cup being the primary objective, the Swiss have not been missing out since the start of the competition in St. Gallen.
Steve Guerdat and «Urgent» would have been 2 seconds fast without the fault on the final obstacle. Schwizer came 2nd, Claudia Gisler 4th riding «Touchable», Andreas Ott 6th, Jane Richard 7th and Guerdat 8th. Vincent Deller came 9th on «Casha» and later on «Wallaby».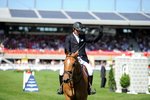 Urs Grünig expects the Nations Cup result to be within the top 5. This is the only major test before the European Championship in Madrid which is the Switzerland's qualifier for London Olympics. Pius Schwizer shall be participating on «Carlina», Steve Guerdat on «Jalisca-Solier» and Werner Muff on «Kiamon».
Source: Alban Poudret