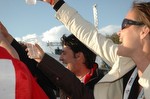 The Olympic bronze medal in team horse jumping of Beijing is definitely in Switzerland's possession. The Court of Arbitration for Sport (CAS) has confirmed Tony Andre Hansen's disqualification who and the Norway team were the 3rd in Hong Kong.
Hansen's horses' Camiro drug tests were positive for capsaicin. The best team rider of Norway was temporary disqualified for the time of the Olympics but was scheduled for the individual competition. He has disputed the decision of the International Federaion to disqualify him in December 22, 2008 in January.
This bronze medal for the team of Steve Guerdat/Christina Liebherr/Niklaus Schurtenberger/Pius Schwizer totals the number of Swiss medals in 2008 Olympics to 7.
Steve Guerdat of Bassecourt therefore becomes the second Jura sportsman having an Olympic medal. The first was Eric Hänni who brought the silver in the Tokyo 1964 Olympics.
Source: LQJ