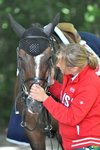 The Swiss jumping team of Pius Schwizer, Jane Richard, Steve Guerdat and Werner Muff came eight chasing the Nation's Cup in Dublin CSIO and felt back to the Promotional League. The victory went to Netherlands.
That was not surprising for the Swiss chef d'equipe Rolf Grass, who had to say that "the result is a consequence of the entire season's events during which multiple horses were injured and therefore the team performance was too low to be competitive at that level."
Steve Guerdat finished 5th for Table A against the clock riding "Ferrari", came 4th for Six Bar riding "Trésor" and for Table C riding "Urgent".