My dear fans, team members, horse's owners, sponsors, family and friends,
The past few weeks have been, as you certainly can imagine, probably the most difficult ones of my career. In fact, on July 20, the sky fell on my head when I received the news about the Provisional Suspension of me and my two horses Nino des Buissonnets and Nasa.
During the ongoing process at FEI Tribunal it has not yet been possible for me to comment in public or via the medias. At the moment I still need some time to get away and deal with the events and impressions of the last weeks. However, once the procedure will be concluded, at a time given I would like to personally voice my opinion on it. Because it is very important for me to be able to present my personal view of things, in particular what it is, what we have been accused due to the currently applicable rules of the FEI, so that everyone may get an idea of it and may form a personal and informed judgment about it.
But today I firstly would like to express my unlimited gratitude to you all, because yes, still if the last few days have been painful, the messages, e-mails and encouragement I got from all of you make it a little more bearable for me. Indeed, since July 20, I got a lot of encouragement to keep going and I would just like to thank you all from the bottom of my heart for your continuous support and the confidence you have just shown in me. You are just incredible, and with these few lines I want to let you know it!
My plans for the season 2015 obviously had to be adapted as a result of the suspension of my horses and subsequently and unfortunately my non-selection for the European Championships. But I will support with passion and pride my colleagues of the Swiss team. We are one team, one country, MY country, for which I am so proud to represent the colours. And although Nino and I are not able to be part of it this year, I fully support our team that lives up to represent our country.
The goal is to get the ticket for the 2016 Olympic Games in Rio. I congratulate my friends Janika, Martin, Romain, Paul, and Niklaus to their selection and wish the team all the very best from all of my heart and:
« GO SWISS RIDERS : One Team, One Spirit »
Your sincerely,
Steve Guerdat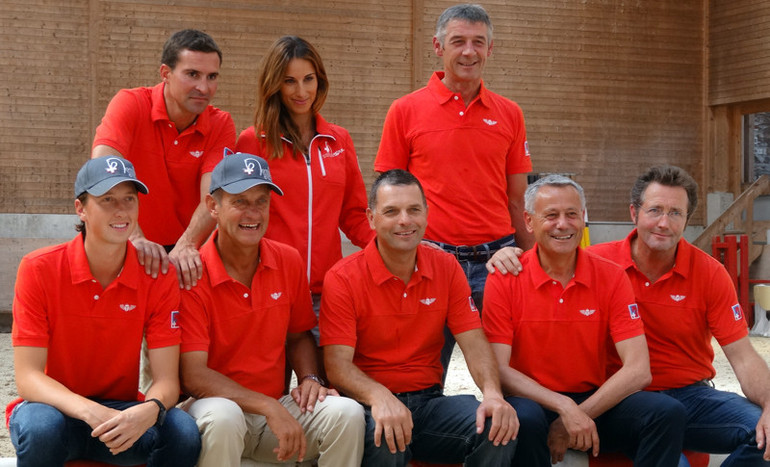 D.g.à.d.: Martin Fuchs, Romain Duguet, Thomas Fuchs, Janika Sprunger, Niklaus Rutschi, Paul Estermann, Andy Kister (Chef d'équipe), Thomas Wagner (vétérinaire)